CANE TOAD BIOLOGY
In most scientific papers on the cane toad, the official name of the species is given as Bufo marinus – the first name (Bufo, the genus) is based on this species being a "true toad" or bufonid. The second part of the toad's scientific name (marinus, referring to a supposed ability to tolerate "marine" conditions [saltwater]) is just a mistake by the early naturalists. These toads don't tolerate saltwater well at all.
But something very confusing has happened over the last few years. Some scientific papers no longer call the cane toad Bufo marinus – instead, it has become Rhinella marina. What's going on? Well, one of the key things about science is that it is progressive – when something is found to be wrong, it gets changed. And researchers who studied the DNA of toads discovered that their evolutionary relationships could better be summarised by splitting up the genus (Bufo) in which they were placed, into several smaller groups. Basically, Bufo was a huge group that included hundreds of species – we just didn't know which of these animals were most closely related to which other ones. But now that the DNA evidence is available, we can see that the cane toad is actually part of a small group that can be given its own name – Rhinella.
Regardless of what you call them,cane toads are among the biggest frog species in the world. Although most adult female toads grow to only about 12 cm long (and males are quite a bit smaller), there are plenty of records of outsized animals. For example, one toad recently caught in the Northern Territory, dubbed "Toadzilla" by the media, was 20.5 cm (8 ") long and weighed 861 g (1.9 lb.). Lots of media reports described Toadzilla as "about the size of a small dog", but we haven't seen too many dogs that small! As with so many things about cane toads, exaggeration is the name of the game! Dog-sized Toad Found in Australia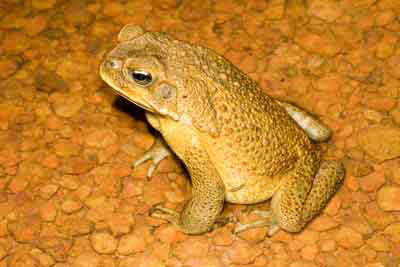 An adult male cane toad
Female Cane Toads not only grow bigger than males, but they also look a bit different. Females have smooth skin whereas males (especially during the breeding season) have rough skin, and can be quite yellow in colour. But the easiest way to tell the sex of an adult toad is to pick it up. Males give a "release call" – a short trill. Females don't have the right kinds of vocal cords to make any call at all, so they are silent (though they vibrate their bodies just like males do when giving a call). The "release call" is used by male toads if another male grabs them by mistake (amorous male Cane Toads are famous for being pretty indiscriminate about what they grab – they often seize female frogs, or even the scientist's fingers while we are conducting mating trials!). A female ready to spawn will approach a waterbody where males are waiting (and usually, calling to advertise their presence). The male will seize the female with his forelegs, and cling on while she moves around. Bigger males will try to push smaller males away from the female, and often succeed. Fertilization of the eggs is external – that is, both the eggs and the sperm are released into the water where they can meet and join.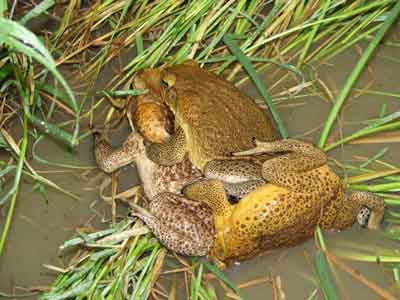 Two male cane toads holding a female - hoping to mate
Female toads probably only lay one clutch of eggs a year, depending on how much food they can get – but we don't really know for sure. The eggs are laid in a double strand within a long thin string of gelatinous jelly.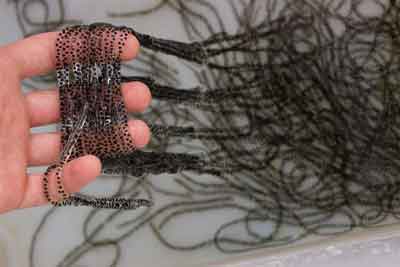 A single "clutch" of cane toad eggs - about 30,000!!!
Typically, the egg-string ends up wound around grass and twigs in shallow water at the edge of the pool. A single clutch can contain more than 30,000 eggs – a lot more than in any native Australian frogs!

The eggs take a couple of days to hatch out into tadpoles, which then take somewhere between a couple of weeks and a couple of months (depending on factors such as water temperature, food supply and density of competing tadpoles) before they hatch into tiny little toadlets.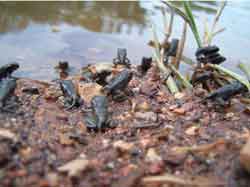 Metamorph Toadlets
One of our main aims with this website is to provide reliable evidence about cane toads in Australia, backed up by scientific research. We haven't put lots of details about that evidence on the main pages, but it's easy for you to get to it. If you want to explore a topic in more depth, just click on Rick's "official" website. You can find literally hundreds of his scientific papers there. Rick's research website

Return to Home Page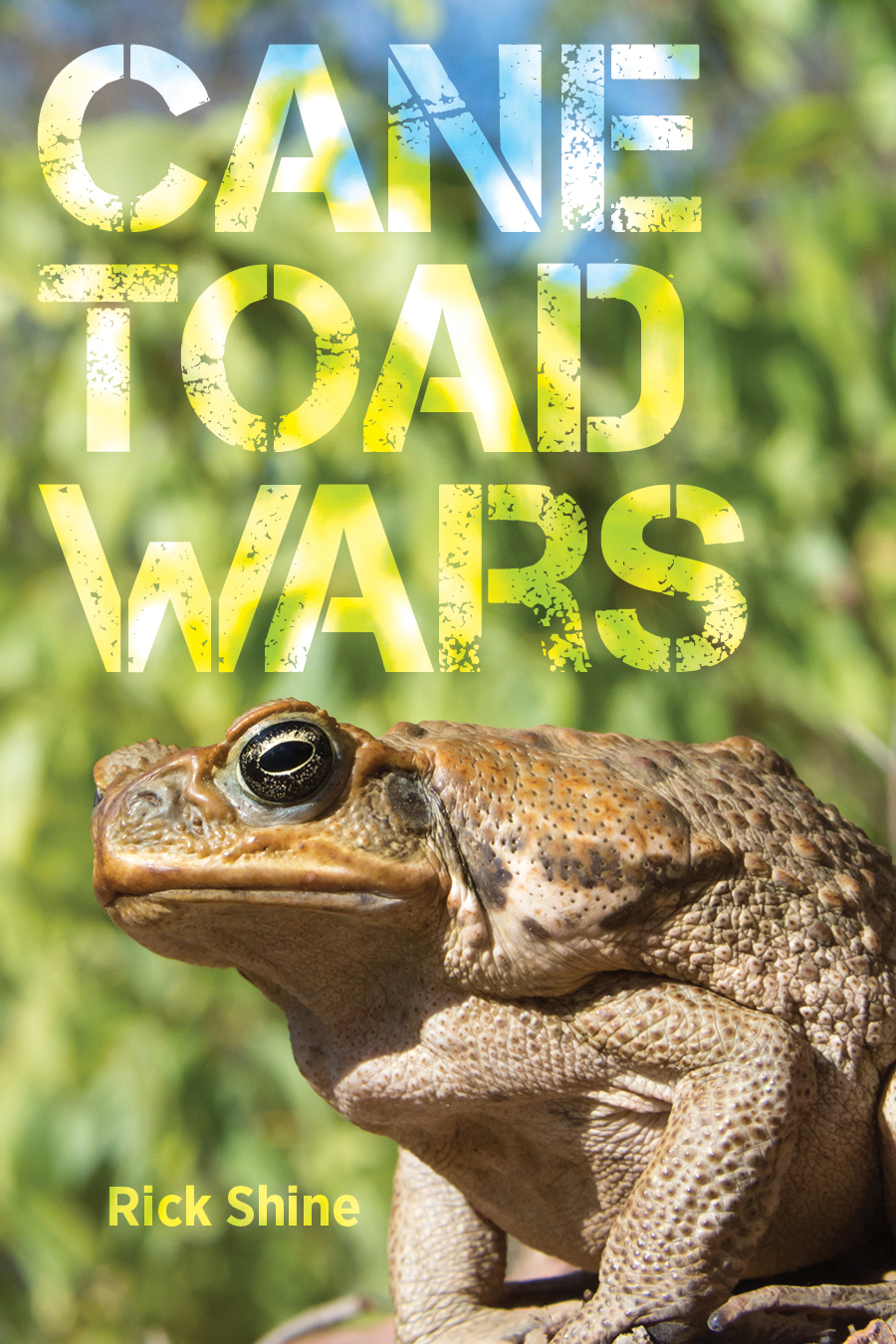 For the full story about the cane toad invasion of Australia, and what we can do about it, read Rick's new book "Cane Toad Wars" (published by University of California Press, 2018).  The book is written for the general public, not for scientists, and is aimed at a wide audience. The book can be purchased through Amazon or (within Australia) through Footprint Books. Or you can buy a copy through your local bookstore.