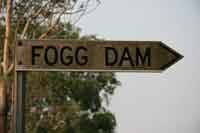 Team Bufo
at Fogg Dam, N.T.
The heart and soul of TEAM BUFO's activities is Fogg Dam, an artificial waterbody on a tributary of the Adelaide River about 60 km east of Darwin. This beautiful wetland is on the way to Kakadu National Park, so quite a few tourists stop here. And it's only about an hour's drive out of Darwin, so very accessible.
Rick's love affair with Fogg Dam began more than 25 years ago. Just before he was about to head off on his first trip to the Northern Territory (to study filesnakes and goannas at Jabiru), he ran into Hal Cogger, the renowned expert on Australian reptiles. Hal has a lot of experience in tropical Australia, so he told Rick to check out Fogg Dam, because of the incredible number of water pythons to be found there. Paul Horner of the Northern Territory Museum took Rick out there a few times during Rick's overnight stays in Darwin, and sure enough, it was hard to drive across the dam wall without finding a python. This was remarkable to somebody used to searching for weeks to find even a single python in southern Australia!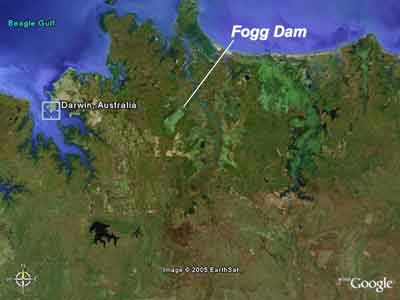 Location of Fogg Dam
So, this was just too good an opportunity to turn down. Rick started coming up every year to spend a few weeks catching and marking pythons, putting radio transmitters into the snakes to track them, and so forth. A few years later, the Australian Research Council funded Rick to hire a "post doc", and Thomas Madsen came into the system. The group has changed a lot since those early days, and grown enormously – as has the range of topics that we have studied.
Fogg Dam was built in 1956 as a central part of an ambitious attempt – mostly funded by American entrepreneurs - to grow rice in northern Australia. The floodplain below the dam was divided into a series of paddy-fields that could be flooded seasonally, and the dam was built to provide a water supply. The dam was named after Mr JD Fogg, Managing Director of Utah Australia Ltd., a partner of Territory Rice Ltd. The scheme failed for a variety of reasons, much of it relating to problems with management. The rats and magpie geese got a lot of the blame for the rice enterprise failing, but most of the locals reckon it was just poor planning. For more information about Fogg Dam and its history, the Friends of Fogg Dam's web page is an excellent source of information.
Fogg Dam
(photo by Terri Shine)
One spin-off from the Fogg Dam enterprise was the construction of Middle Point village, just a few kilometres from the dam (originally named "Humpty Doo", but that name has now been taken over by the much larger area to the south). The village was originally built as a base for the CSIRO research team who investigated the ecology of the Fogg Dam system, and the feasibility of rice-growing. Although the business failed, much was learnt; for example, Redhead's studies on the native dusky rats of the floodplain, and especially how their populations were affected by Cyclone Tracy's arrival in 1974, remain as classic pioneering research projects. After the rice-growing attempt was abandoned, Middle Point village evolved into the base for the Coastal Plains Research Station, mostly devoted to agricultural enterprises.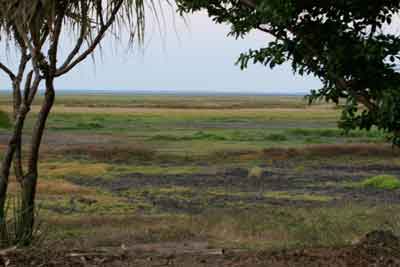 Fogg Dam Flood Plain


(photo by Terri Shine)



In particular, much was done to work out how best to raise water buffalo in the area, and what kinds of buffalo were best-suited to the local environment. Water buffalos are not native to Australia, but were brought across to the Northern Territory very early in the history of settlement (at Port Essington, in the 1820's) and have since run wild. The buffalo workers were very supportive of our research efforts – and one of them, Eric Cox, probably deserves to be called the Guardian Angel of our entire research program. We were all delighted when Eric's incredible generosity was recognised in the 2010 Australia Day Honours list - he must be the only buffalo farmer with an Order of Australia to his name! Without the support from locals like Eric, Team Bufo would not have succeeded.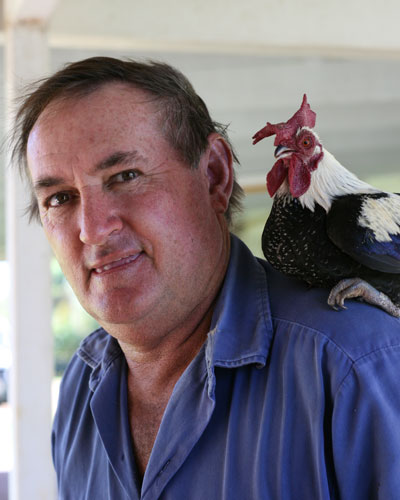 Eric Cox OAM with one of the Northern Territory's most dangerous animals: a homicidal bantam rooster named Leon.


(photo by Terri Shine)
Local politics and changes to agricultural practices gave the Coastal Plains Research Station a rocky ride. It eventually was closed, with the buffalo work moving to nearby Beatrice Hill Farm. Middle Point Village was then used for a variety of purposes, mostly as a base for the state government's Parks and Wildlife Service. In 2005, they finally decided to move out to their own premises nearby – and just at the right time for Rick and the rapidly growing Team Bufo. With enormous tolerance from Barry Scott (the head ranger) and his staff, the village gradually transformed back into a research station – but now, a research station devoted to ecological research on the local amphibians and reptiles. Rick's Federation Fellowship, and the extra funding that came from the Australian Research Council to conduct research on cane toads, enabled a rapid growth of our activities.

Our toad research has now expanded quite a bit, with extensive studies in Western Australia, Queensland and New South Wales - but Fogg Dam remains our heart and soul.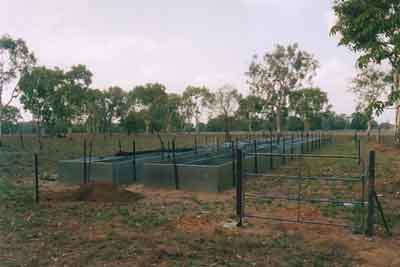 Part of the University of Sydney Tropical Ecology Research Facility
Return from Team Bufo at Fogg Dam
to About Us
or to Home Page